The mission of the Company is to develop innovative and revolutionary treatments to combat disorders caused by disruption of nerve activity, also called neuronal signaling. We are developing treatment options that address conditions that affect millions of people, but for which there are limited or poor treatment options, including obstructive sleep apnea ("OSA"), attention deficit hyperactivity disorder ("ADHD"), spinal cord injury ("SCI"), epilepsy, neuropathic pain, as well as certain neurological orphan diseases such as Fragile X Syndrome.
The brain is composed of specialized nerve cells called neurons that communicate information with each other via a process known as neurotransmission. These neurons convey information by releasing neurotransmitters, chemicals that attach to receptors, very specific protein structures that reside on adjacent neurons. This neurotransmission process can either increase or decrease the excitability of the neuron receiving the message. For example, glutamate is the primary excitatory neurotransmitter in the brain, while gamma-amino-butyric acid ("GABA") is the primary inhibitory neurotransmitter.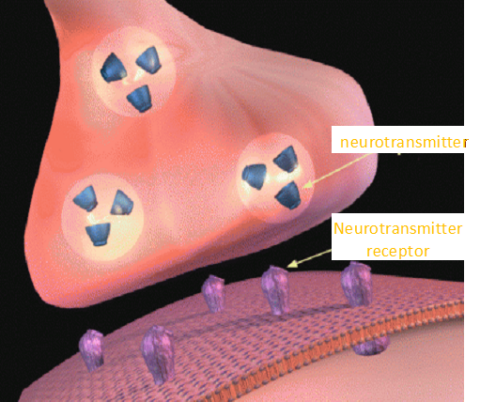 The portion of the receptor at which the natural neurotransmitter attaches is known as an "orthosteric" or "agonist" binding site. Drugs that also bind to these orthosteric sites are known as direct agonists. Receptor protein subunit structures can vary so that the receptors can produce a variety of effects, including the flow of ions (electrically charged molecules) into the neurons or enzyme activity within the cells. The receptors for individual neurotransmitters may vary depending upon subunit structures, altering the binding characteristics of the agonist or orthosteric site.
Certain neurotransmitter receptors are composed of protein subunits that assemble to form a pore, known as an ion channel. For example, one type of glutamate receptor has been termed the AMPA receptor, based on the ability of AMPA, a synthetic chemical, to act as a direct agonist by binding to and activating this glutamate receptor. The AMPA receptor is composed of four transmembrane proteins that span across the celll membrane and form a pore (see illustration below). The binding of glutamate, or an artificial agonist such as AMPA, to its orthosteric site causes a change in the structure of the AMPA receptor by opening the ion channel and increasing the flow of sodium and calcium into the cell, resulting in an increased excitability.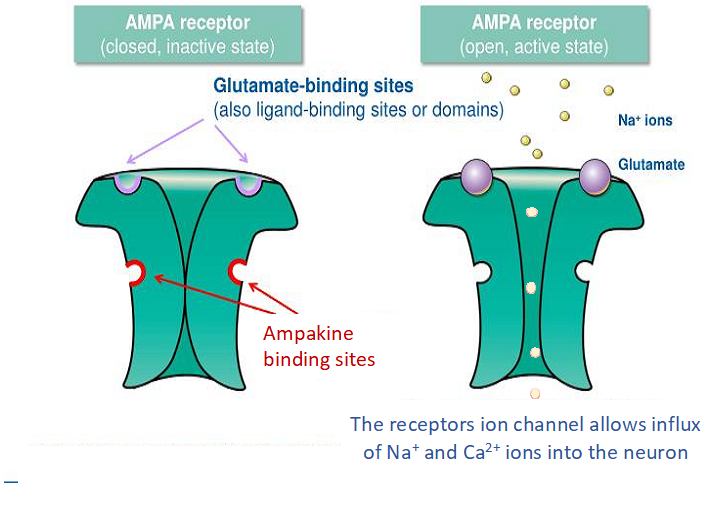 In a similar fashion, one type of GABA receptor, the GABAA receptor, is composed of five transmembrane proteins that form a pore, which when activated by GABA, opens and allows chloride to enter the neuron, thus decreasing its excitability. The GABAA receptor proteins are heterogeneous and form various combinations allowing for subtype specificity and neuroanatomical and pharmacological selectivity.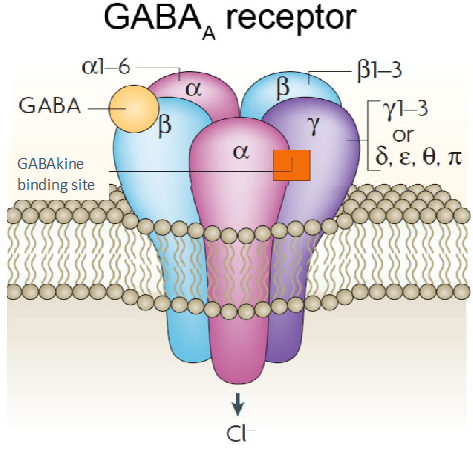 In addition to orthosteric or agonist binding sites, neurotransmitter receptor proteins also may contain an adjacent, auxiliary site termed an "allosteric" binding site.
Neuromodulators are drugs that do not act directly at the neurotransmitter binding site, but instead act at these allosteric binding sites. They can enhance (Positive Allosteric Modulators – "PAMs") or reduce (Negative Allosteric Modulators – "NAMs") the actions of neurotransmitters at their primary receptor sites. Neuromodulators have no intrinsic activity of their own. We have coined the terms "ampakines" and "GABAkines" to refer to drugs that act as PAMs at the AMPA and GABAA receptors, respectively. As can be seen in the two illustrations above, ampakines and GABAkines bind to sites adjacent to the orthosteric neurotransmitter binding site.
By way of example, as can be seen in the illustration below, when glutamate is applied to a neuron, a rapid, but brief, depolarization occurs, leading to an increased excitability of this cell. When this procedure is repeated in the presence of an ampakine, the depolarization and excitability is greatly enhanced.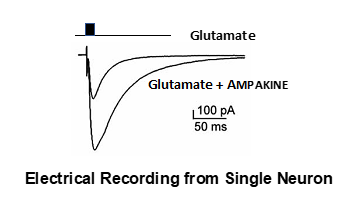 In its pharmaceutical cannabinoid program, RespireRx currently is developing drugs that act as direct agonists at the CB1 and CB2 receptors for the endogenous cannabinoid neurotransmitter systems. This direct agonist is dronabinol, a synthetic version of ∆9-tetrahydrocannabinol ("Δ9-THC") that is one of the active substances found in the cannabis plant.
In Project Endeavor, our neuromodulator program, we are developing ampakines and GABAkines for the treatment of a variety of neuropsychiatric and neurological indications.